Evansville Water & Light Food Drive
Please stop by City Hall to drop off donations.
Collection site can be found in the Elevator Lobby of City Hall!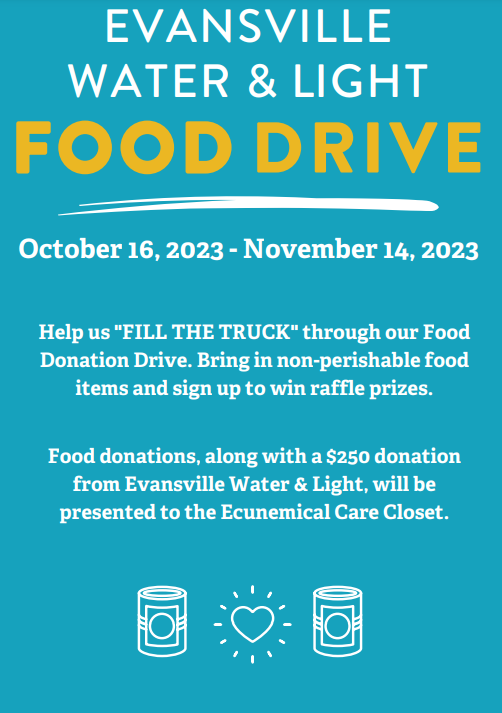 Evansville Water & Light
---
The City of Evansville Municipal Utility provides water to nearly 2,000 customers and electric to nearly 4,000 customers. The City operates three wells, one tower, and many miles of water line to service all of our residents in Evansville. The Electric Utility purchases power from WPPI and distributes electricity to Evansville residents and the surrounding area.
In modern times it is easy to take for granted the idea of a public water and electric supply, but that has not always been the case. Starting in 1885 there were many proposals for the creation and installation of a public water system for health benefits, fire protection and industrial growth. These proposals did not pass the village board at the time and they continued to use cisterns throughout the community. At the same time electricity in the community was provided by Baker Manufacturing. In July of 1901 the residents of Evansville voted to create City run water and electric utility. Now we have reliable water and electric supply for all of our residents in Evansville and we shall continue to provide quality and reliable service for many years to come.
---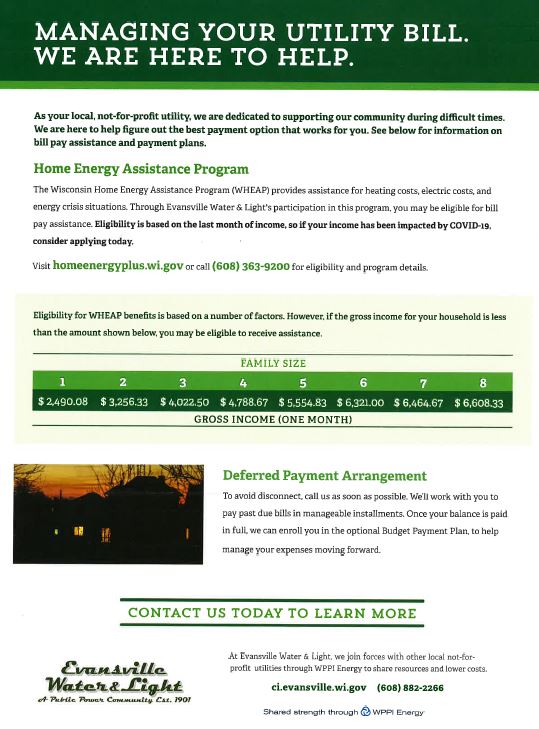 ---
You may have heard information recently about advanced meters—sometimes referred to as "smart meters". Many electric and water utilities, including your own Evansville Water & Light, are making use of this technology. Are you wondering what this industry shift means for you in Evansville?

---
You may be able to reduce your monthly bill simply by being flexible and using electricity at the right time of day. The optional plan lets you take advantage of lower electric rates during times when overall demand for electricity is lowest.
For more information, please call 608-882-2266.
---
Evansville Utility Account Policy and Procedure Manual - Customer Policy
---
Focus on Energy partners with Evansville Water & Light to deliver real, measurable energy and financial savings for Wisconsin's residents and businesses. In fact, since 2011 Focus on Energy has delivered more than $1 billion worth of net economic benefits to the state of Wisconsin. Check out the offerings below to see how you can start saving energy and money with Focus on Energy.
Incentives and Offering from Focus on Energy®