Growing Our Parks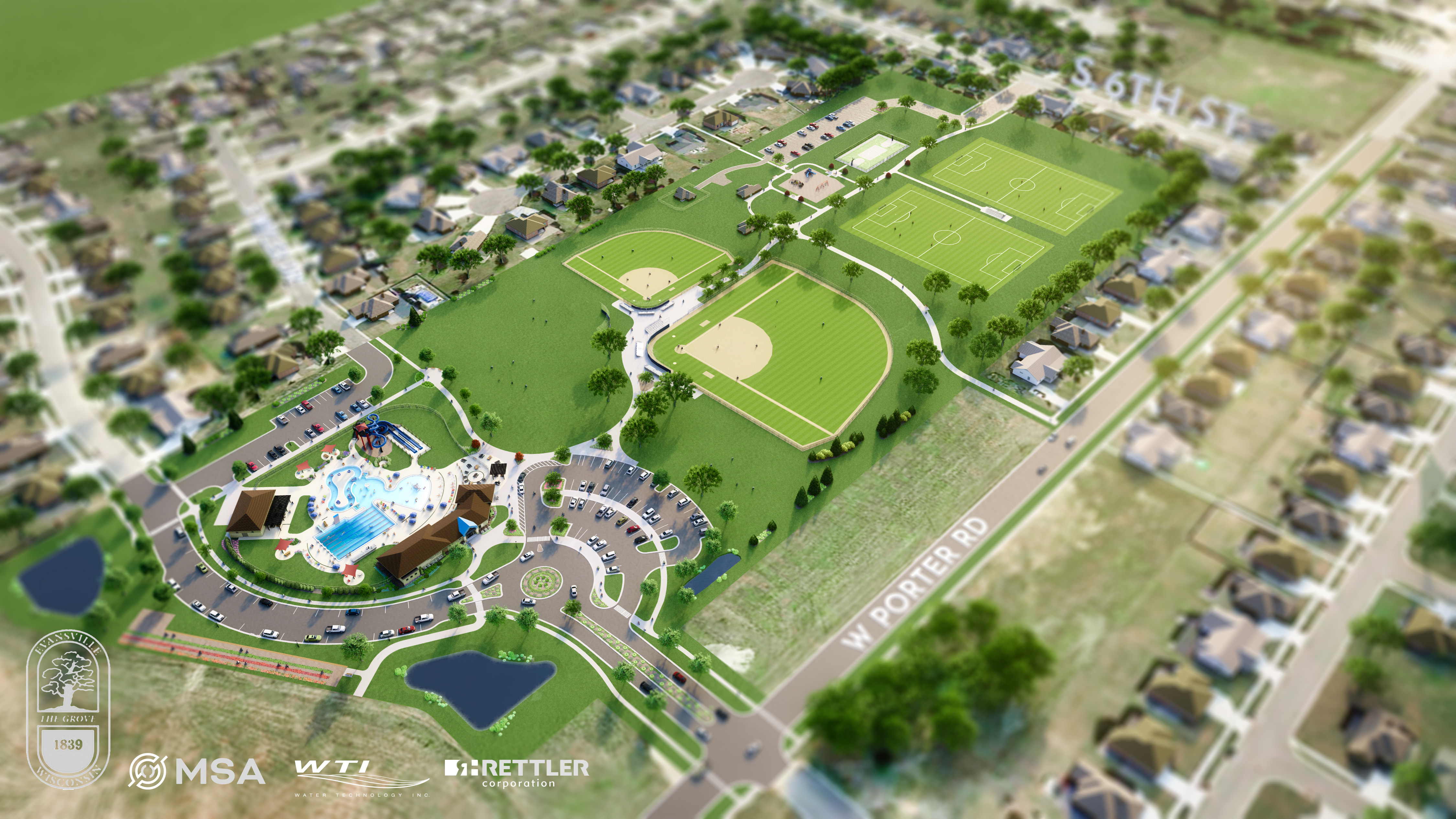 West Side Park rendering of aquatic, recreation and athletic improvements
---
Send a Check payable to City of Evansville Campaign
PO Box 529, Evansville, WI 53536
Contributions are Tax Deductible as prescribed by law
Make a Digital Donation (processing fees apply)
---
Recreation for Generations
There are many compelling reasons why Evansville has been labelled "Best City for Young Families." We're a close-knit community. We care about each other, this place, and our quality of life. We enjoy scenic parks, great schools and take pride in our historic downtown.
Today, we have an opportunity to build on those qualities by upgrading West Side Park and Leonard-Leota Park to benefit our community. With your help, we can build a forward looking and high-quality aquatic center – one that will serve people of all ages – to replace the aging, leaky pool that is beyond repair. We can also make other appropriate upgrades, such as a new nature-based splash pad that will respect the National Historic Landmark status of Leonard-Leota Park.
Parks and outdoor recreation are central to Evansville's vitality and contribute to our quality of life and small-town charm. Join us in making possible these much-needed improvements at West Side Park and Leonard-Leota Park.
The need for improved aquatic facilities was established through studies and extensive community input. A 2017 pool assessment deemed the current aquatic center in poor condition and beyond its life. Surveys used to prepare the 2020-25 Park and Outdoor Recreation Plan identified a new and expanded aquatic center as the highest priority for recreational activities in Evansville.
Summer swimming has been a delight of Evansville residents long before the current 1950s-era pool, when the lake was popular and safe for swimming.
The existing swimming pool at Leonard-Leota Park, built in 1958, has developed extensive leaks requiring costly repairs. There is evidence of a void in the soil beneath the pool. While the life of most pools is between 30 and 40 years, ours is 65 years old and needs to be retired.
The city has done all it can to extend the pool's life. In 2017, inspections found that the current pool and bathhouse do not meet codes. They found the pool, its filtration system, and other components need to be replaced.
Here's where things get exciting. Before the current 1950s pool is demolished, a new, fully featured aquatic center will be built at West Side Park, along with an array of other needed improvements.
Other significant upgrades at West Side Park include interconnected pedestrian walkways and paths, as well as a community garden. New sports facilities will be added, including new softball and baseball fields with dugouts, open practice fields, and updates to soccer fields.
Planned improvements will also be made to parking, landscaping and the playground area.
Demolition of the current 1950s pool and bathhouse will provide an opportunity to enhance the natural environment and recreational features at historic Leonard-Leota Park, as well. A new nature-based splash pad there will add a dash of excitement to an already beautiful setting. Families and children will continue to be able to visit Leonard-Leota Park for fun in the water. The new facility will carry on the tradition of being named in memory of veterans.
A new aquatic center offers wellness benefits to people of all ages. It will be a valuable resource for teaching youngsters and adults to swim and a place where families can gather.
It will also be a hub for events and a place where water safety, swimming lessons and fitness classes can all be held.
The splash pad at Leonard-Leota Park will provide a family-centered, nature-based and fun place for younger children, typically ages 2-12, to play and enjoy the outdoors. Interactive geysers, fountains, stone walls, outdoor patios, and beautiful perennial gardens will also delight visitors.
The new facilities will be designed to accommodate people of all ages and abilities.
The project will be designed and constructed within a 24-month period, with a goal of keeping existing park facilities as operational as possible during that time.
These upgrades to two Important parks are estimated to cost $14.9 million. Of that total, $13.2 million will come from taxpayer funding and $1.7 million will be raised from private donations through a capital campaign.
This funding partnership means that we need your help to reach our goal of updating our parks, providing new and exciting recreational opportunities to our residents.
This project is a once-in-a-lifetime opportunity to improve the quality of life for everyone in Evansville, provide added recreational amenities and keep our parks a treasured resource for many years to come.
Join us in the campaign to make these improvements a reality. Show that the Evansville community is invested in the future by visiting www.ci.evansville.wi.gov/donate and giving generously, so together we can provide Recreation for Generations.
---
| | |
| --- | --- |
| Main Aquatic Center | $500,000 |
| Leisure Pool | $150,000 |
| Lazy River | $150,000 |
| Lap Pool | $150,000 |
| Multi-Purpose Pool | $150,000 |
| Slide Tower | $150,000 |
| Soccer Fields (2) | $100,000 each |
| Softball Field | $100,000 |
| Baseball Field | $100,000 |
| Concession Area | $50,000 |
| Aqua Wall | $20,000 |
| Diving Board | $20,000 |
| Baseball Dugout w/ Storage | $12,000 |
| Softball Dugout w/ Storage | $12,000 |
| Softball Dugout | $10,000 |
| Baseball Dugout | $10,000 |
| Community Garden | $10,000 |
| Soccer Benches (4) | $5,000 each |
| | |
| --- | --- |
| Splash Pad (Veterans Memorial name will remain) | $250,000 |
| Upper Outdoor Patio | $20,000 |
| Building Patio | $20,000 |
| Interactive Geysers | $20,000 |
| Lower Outdoor Patio | $20,000 |
| Stone Wall | $10,000 |
| Perennial Gardens | $10,000 |
Note: All names are subject to council approval and for a 20-year period.
---
Send a Check payable to City of Evansville Campaign
PO Box 529, Evansville, WI 53536
Contributions are Tax Deductible as prescribed by law
Make a Digital Donation (processing fees apply)
---
"We make a living by what we get, but we make a life by what we give."
– Winston Churchill
---
Your gift to support Evansville's West Side Park and Leonard-Leota Park Campaign is greatly
appreciated and the methods of giving are numerous. Some of the most common ways of
giving are listed below:
A gift of cash

A gift of securities or other forms of investment

An IRA rollover gift

A gift of real estate

A gift of tangible personal property

A gift in-kind, acceptable to the city

A gift through a charitable remainder trust (unitrust or

annuity trust) with an income interest retained for life

A company matching gift, payroll deduction or

automatic bank draft

A grant from a corporate giving program, family or

other charitable foundation
We urge all gift commitments to be fulfilled by December 31, 2023.
Giving to the capital campaign offers opportunities for creating a special tribute in honor of a friend or loved one, recognize a special date or achievement or in memory of loved ones. We will be happy to discuss special gift options with donors. Gifts and pledges may be made On the Occasion, In Memoriam, or In Honor of individuals, families, businesses and/or organizations.
A Place of Honor will be created in a suitable location in both park locations to recognize donor participation in an appropriate and dignified manner.
All donors making gifts and pledges of $1,000 or more will be recognized by a permanent symbol of appreciation at the Place of Honor. It will include the names of individual and family donors, businesses, foundations, and organizations that have made substantial contributions to the campaign.
In addition, attractive donor recognition opportunities will be offered as another way to show our appreciation to donors who make significant campaign gifts.
All donors to the capital campaign who wish to be recognized, will be listed in alphabetical order in the Honor Roll of Donors. It will be a publication created at the campaign's conclusion and widely circulated throughout the communities we serve.
---
FAQs
The cost to fund the city's current plans for revitalization and upgrades to West Side Park and Leonard-Leota Park is estimated at $14.9 million. Due to the COVID-19 pandemic's effect on supply chains and rising construction costs, this number was higher than anticipated.
Of that total, $13.2 million will come from taxpayer funds. The remaining $1.7 million will come from private donations raised through the capital campaign.
Evansville has done all it can to extend the life of the existing pool at Leonard-Leota Park, but it has developed extensive leaks, and more problems and expensive repairs are anticipated. The usual life of an outdoor pool in the Midwest is between 30-40 years. Veterans Memorial Aquatic Center is nearly 65 years old.
A Conditions Report & Pool Study conducted in 2017 found that the current pool and bathhouse are antiquated, do not meet current codes, and have many systems that must be repaired and replaced. Inspections determined that the pool is not salvageable and the buildings, pool basin, filtration system, and other critical components all need to be replaced. It has served the community well. Unfortunately, it is simply beyond repair.
Because the city will get more for less by moving the pool. It would cost an additional $2 million to keep the pool where it is. That amount would be just for the pool and wouldn't include the other many other features of the aquatic center.
The project will be designed and constructed within a 24-month period with a goal of keeping the existing facilities at both parks as operational as possible during this development period. We broke ground in fall of 2022 and anticipate completion in summer of 2024. The capital campaign is scheduled to conclude on Dec. 31, 2023.
Yes. There are many appealing donor recognition opportunities available. A complete, detailed list of giving opportunities is included in the campaign materials.
Contact Melanie Crans, (608) 882-2266 or email: Melanie.crans@evansville.wi.gov, for availability and more details.
To meet our goal, we need everyone's support. This is a regional campaign that includes Evansville and all the communities that use the parks. We are asking individuals, businesses, foundations and organizations throughout the parks' entire service area to get involved in supporting the campaign.
The campaign is being championed by a Capital Campaign Committee consisting of community leaders and local volunteers. The campaign is directed by Baker Street Consulting Group, a highly experienced, Wisconsin-based fundraising consulting firm.
Yes, however, we ask that our donors strongly consider making an outright gift, so we have funds before the project completion. We understand, however, that extending your gift payments until Dec. 31, 2023 may allow you to make a greater donation. Our campaign's success depends on gifts of this type. But to ensure our success, please consider making an initial pledge payment of at least 50% of your pledged amount.
Yes. All campaign gifts are managed by the city, go into the City of Evansville Parks Fund. Gifts to the campaign are tax deductible as prescribed by law.
We need gifts at a variety of dollar levels to reach our goal. Please make your gift a thoughtful, substantial commitment for you, your family, your business, and/or your organization. Every gift, regardless of dollar amount, will be recognized in a dignified and appreciative manner.
Yes, families, co-workers and/or organizations may decide to join to make a combined gift to qualify for a special naming opportunity and recognition level.
Please make your gift today and help make this vision for improving our parks a reality!
---
Make Your Donation Today!
Send a Check payable to City of Evansville Campaign
PO Box 529, Evansville, WI 53536
Contributions are Tax Deductible as prescribed by law
Make a Digital Donation (processing fees apply)
---